Directed By Dario Argento and George Romero
DVD R1 NSTC / 1.85:1 / DD, DTS 5.1 / Blue Underground / $29.95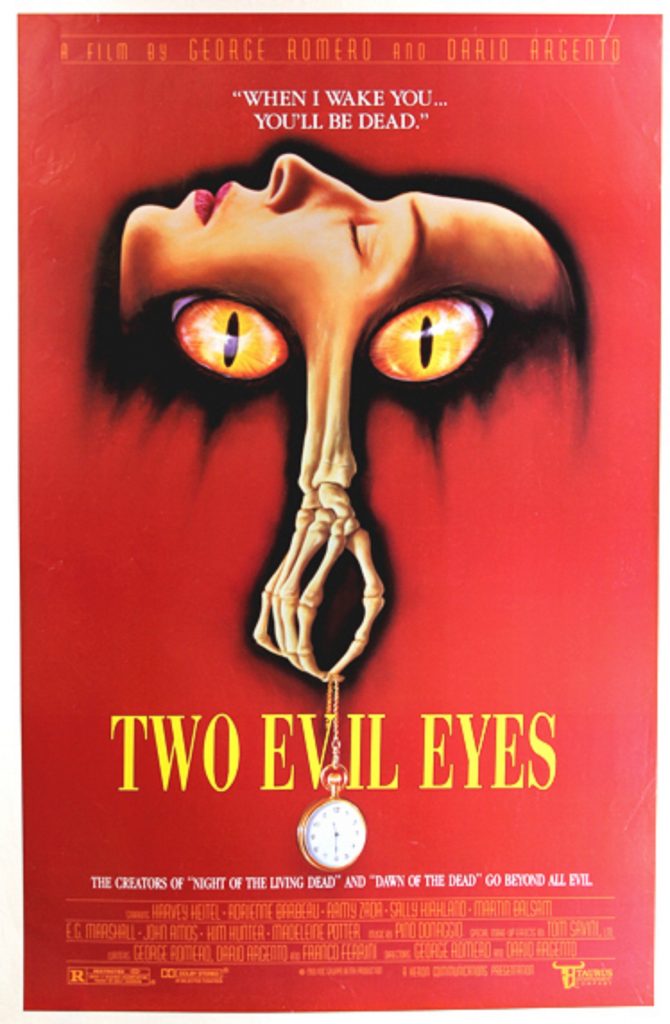 Two Evil Eyes serves almost as a transition from the theatrical and creative success of genre material during the few decades preceeding it into the depressing drought of memorable horror in the nineties. What better example of this trend than Argento and Romero, two great artists who enjoyed a streak of hits prior to their Eyes stint only to find themselves out of order in the tame direct-to-video atmosphere of the decade that this 1990 film kicked off. By the time this movie was finally finished, prospects of a decent theatrical release in the U.S. (and other countries for that matter) were long gone but fortunately this reinterpration of two classic Edgar Allen Poe stories found a small audience on home video where it continues to gain interest through Blue Underground's 2-disc DVD re-release. Shortcomings of the final product aside, how many Romero and Argento films exist, let alone a movie made of two mini-movies from both these guys? Any product of these master filmmakers has to be fascinating on some level.
Beginning with a few shots of Poe's home and resting place almost as a weird invocation of the writer, the opening tale consists of Romero's take on The Facts in the Case of M. Valdemar. The original story is a short study of an infrimed man who dies under hypnosis with some strange physical consequences but Romero beefed up his adaptation with a subplot of a money-grubbing trophy wife (Adrienne Barbeau) and her lover who find themselve in a sticky situation as they mess with the infinite and manage to conjure something from the "other side" with a deadly aftermath. Although often considered inferior to Argento's contribution, Romero manages to imbueValdemar with some of his signature musing about life and (un)death and even revisits some of his Creepshow antics in this twisted story full of doublecross and very pointy metronomes. The final zombie-fied coda with the Tom Atkins cameo role is priceless.
Argento's rendition of The Black Cat invents the character of Rod Usher, an eccentric crime photographer whose fixation with death imagery and his odd relationship with a dark-colored feline doom his girlfriend to a fate that would make Amontillado proud. Considered by many to be the stronger of the two films, Argento's love of Poe shines through the film's successive layers of tension and foreboding evil, no doubt strengthened by some bravura cinematography and an intense performance from Harvey Keitel with small but effective cameos from Kim Hunter and underrated character actor Martin Balsam.
Blue Underground's DVD proudly displays a sticker on the packaging promising a "director's cut" even though the film never underwent heavy censorship in most markets. Even if this new DVD contains no new footage, the revised 5.1 DTS and DD audio are welcome additions along with a new video transfer that puts the older vhs dubs to shame. Included on the second disc of this limited edition set are a few featurettes which uphold BU's usually excellent standards. There's even a peek inside the Tom Savini home that was shot around the time of Two Evil's production. Rounding out the package are the requisite trailers, still galleries and a short interview with Adrienne Barbeau shot at the time of Creepshow which focuses on her working relationship with Romero.
Originally planned as a much larger film consisting of multiple segments from other directors, the two present filmmakers made the most of Poe's dense material and Tom Savini's bloody effects to create a film which still delivers but might not have the same "wow" factor as other masterpieces in either's respective filmographries. Despite the failure to live up to everyone's expectations, Two Evil Eyes remains a film which deserves to be reassessed on it's own strange and uneven terms.
2020 Update: Blue Underground release Two Evil Eyes on Blu-Ray and then recently Re-released the film on Blu-Ray in a massive special edition.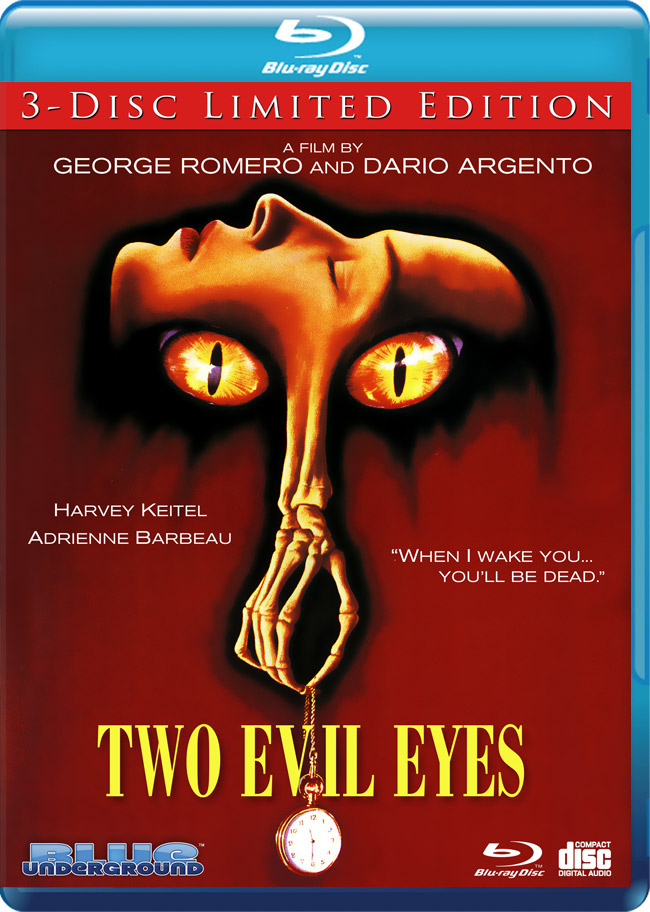 The Masters of Modern Horror – George Romero and Dario Argento – bring you an unprecedented pair of shockers inspired by the tales of Edgar Allan Poe. In Romero's The Facts In The Case Of Mr. Valdemar, a conniving wife (Adrienne Barbeau of THE FOG) and her lover use a hypnotic trance to embezzle a fortune from her dying husband, only to receive some chilling surprises from beyond the grave. Then in Argento's The Black Cat, a deranged crime scene photographer (Harvey Keitel of FROM DUSK TILL DAWN) is driven to brutal acts of madness and murder by his girlfriend's new pet. But will this cunning feline deliver a final sickening twist of its own? 
Martin Balsam (PSYCHO), E.G. Marshall (CREEPSHOW), John Amos (THE BEASTMASTER) and Tom Atkins (NIGHT OF THE CREEPS) co-star in this wild horror hit that also features grisly makeup effects by Tom Savini (MANIAC). In celebration of its 30th Anniversary, Blue Underground is proud to present TWO EVIL EYES in a new 4K restoration from its original camera negative, packed with exclusive new and archival Extras!
Disc 1 (Blu-ray) Feature Film + Extras:
NEW! Audio Commentary with Troy Howarth, Author of Murder By Design: The Unsane Cinema of Dario Argento
Theatrical Trailer
Poster & Still Gallery

Disc 2 (Blu-ray) Extras:
Two Masters' Eyes – Interviews with Directors Dario Argento & George Romero, Special Make-Up Effects Supervisor Tom Savini, Executive Producer Claudio Argento, and Asia Argento
Savini's EFX – A Behind-the-Scenes look at the film's Special Make-Up Effects
At Home With Tom Savini – A personal tour of Tom Savini's home
Adrienne Barbeau on George Romero
NEW! Before I Wake – Interview with Star Ramy Zada
NEW! Behind The Wall – Interview with Star Madeleine Potter
NEW! One Maestro And Two Masters – Interview with Composer Pino Donaggio
NEW! Rewriting Poe – Interview with Co-Writer Franco Ferrini
NEW! The Cat Who Wouldn't Die – Interview with Assistant Director Luigi Cozzi
NEW! Two Evil Brothers – Interview with Special Make-Up Assistant Everett Burrell
NEW! Working With George – Interview with Costume Designer Barbara Anderson

Disc 3 (CD):
TWO EVIL EYES Original Motion Picture Soundtrack by Pino Donaggio
BONUS! Collectable Booklet with new essay by Michael Gingold