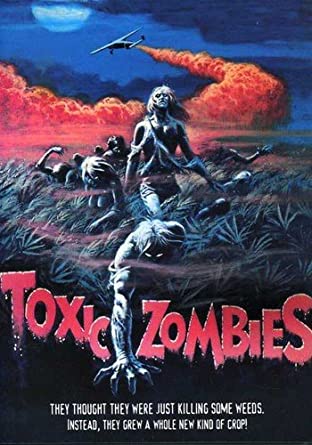 Along with all the other fallen heroes of 9-11-2001, let's also remember that this national tragedy also took the life of Charles McCrann, the director and star of the cult horror film Bloodeaters (AKA Toxic Zombies).
From his New York times article:
Charles Austin McCrann was a levelheaded, respected executive, devoted to his wife, Michelle, and children, Derek and Maxine. But beneath his responsible exterior beat an auteur's heart. He loved film, whether the comedies of W. C. Fields or horror movies.

And so it was that Charlie, graduate of Princeton University and Yale Law School, senior vice president at Marsh & McLennnan, was also the writer, producer, director and star of "Toxic Zombies," a comic horror film that was shown twice on the USA cable network. The move was made while Mr. McCrann was on hiatus in the late 1970's; its plot turned on a group of hippies who turn into those toxic zombies after a drunken crop-duster oversprays their marijuana field.

"Toxic Zombies" epitomized a sense of humor that even now makes Mrs. McCrann laugh out loud. Charlie McCrann would surprise someone taken in by his straight appearance with a funny duck walk as he left the room. He would tease her relentlessly, so that after an angry derelict spit on her once, he said, "You mean your Uncle Spitty did that to you?"

He brought her cappuccino in bed every morning. He did his children's chores behind her back. "He was a character, that's for sure, " Mrs. McCrann said.
His film along with all the other USA Network programming in the late eighties was a big part of my childhood. McCrann will never know what his film meant to its devoted fans across the world, but videophiles will soon be able to experience bloodeating in whole new high-res version when Massacre Video releases the film for the first time on Blu-Ray this year. They've recently teased their release in a recent Instagram post: