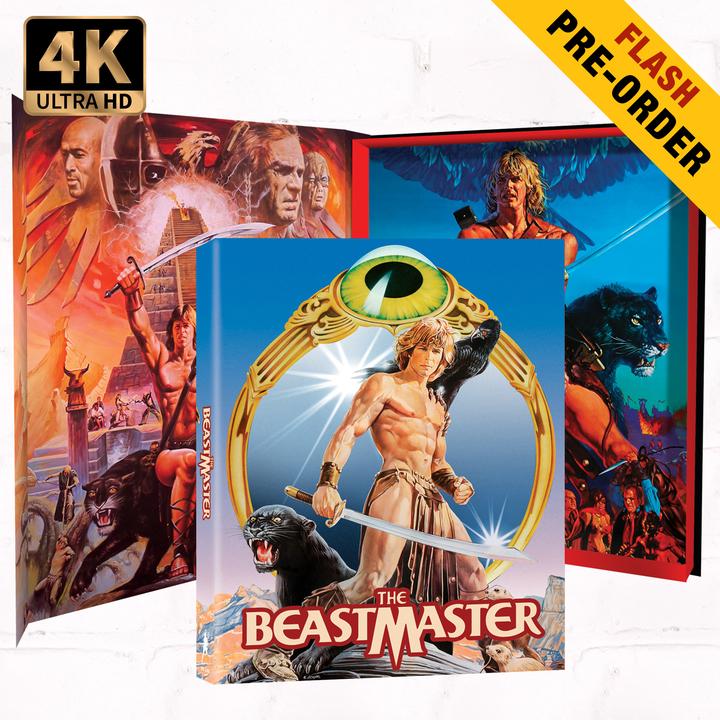 We are beyond excited to introduce you to Vinegar Syndrome Ultra, a new Vinegar Syndrome sub-label focused exclusively on extravagant UHD/Blu releases of 'major' 80s and 90s titles that might not always fit into the regular VS milieu (although the first one definitely does!).
For the first VSU release, we're unleashing the worldwide UHD and North American Blu-ray debut of acclaimed genre filmmaker Don Coscarelli's 1982 supernatural/fantasy/action blockbuster, THE BEASTMASTER, presented in a brand new 4K restoration, along with an exclusive, multi-part, feature length making-of documentary, 40 page bound book, and a stunning new case designed by Earl Kess.
Pre-order Link (Vinegarsyndomre.com)
Quote from director Don Coscarelli:
I am happy to report that Vinegar Syndrome has embarked on a meticulous restoration of my film The Beastmaster that it has always deserved. Vinegar Syndrome has done commendable legwork and tracked down a pristine printing element, a high quality Interpositive, in the Warner Bros. vaults. VS has also assembled a plethora of fascinating new supplemental materials that I cannot wait to share with fans. I am so excited that finally The Beastmaster will be released on 4k Ultra HD and Blu-ray in North America.
When he was a baby, Dar (Marc Singer, TV's 'V') was cursed by an all-powerful wizard named Maax (Rip Torn, Men in Black) to prevent him from rightfully ascending as the leader of his people. But the curse left him with a unique gift: the ability to telepathically communicate with all forms of animal life. But when Maax all but wipes out his tribe leaving Dar to fend for himself, he begins a quest of vengeance, accompanied by his animal friends, to Maax and end his reign of terror and violence.
Directed by legendary genre filmmaker Don Coscarelli (Phantasm, Bubba Ho-Tep) and co-starring Tanya Roberts (Sheena), John Amos (Coming to America), and Rod Loomis (Bill & Ted's Excellent Adventure), THE BEASTMASTER is a thrilling mix of fantasy, action, and adventure, with touches of horror. Photographed by Academy Award winning cinematographer John Alcott (Barry Lyndon, A Clockwork Orange) and featuring incredible production design by Conrad Angone, Vinegar Syndrome Ultra brings THE BEASTMASTER to UHD and Blu-ray in a brand new 4K restoration!
Directed by: Don Coscarelli
Starring: Marc Singer, Rip Torn, Tanya Roberts, John Amos, Rod Loomis
1982 / 118 min / 1.85:1 / English 5.1
Additional info:
• Region Free 4k Ultra HD / Blu-ray combo
• Newly scanned & restored in 4k from its 35mm interpositive
• 4k UHD presented in HDR
• Limited edition VSU magnet clasp hard case containing a Slipcover and a 40-page bound book
• Newly produced multi-part feature length making-of documentary
• Select extras ported over from previous DVD releases
• Additional extras to be announced
• Reversible Blu-ray sleeve cover artwork
• English SDH subtitles