Fred Olen Ray has announced on his official Facebook page that the Retromedia DVD of Dinosaur Island and the Blu-Ray of Evil Spawn are now available immediately on Ebay ahead of their later appearance on Amazon. According to Ray, the Ebay debut is due to delays from Amazon:
I've had it… I'm fed up to… HERE! Read on, folks…Our new Retro releases have been finished for almost a month now and Amazon just informed us that we'd be lucky if they're made available for sale by Christmas… Covid warehouse issues, blah-blah etc.
Even though they are in possession of the product already! Today, after 2 months of asking for an answer, they finally admitted that they'd lost an entire shipment of PHANTOM EMPIRE blu-rays… all 100 units… gone. At least they owe me the money for these… So… starting as of tomorrow, I am making DINO and SPAWN available for sale on eBay until I can get an official website up where people can buy directly from us and the product will be able to ship when it comes out of the manufacturers. I'm sick of all of this. More on this later. You won't be sorry.
Our eBay listings for DINOSAUR ISLAND and EVIL SPAWN will go "live" at noon, Los Angeles time. Since we're shipping from our own warehouse I decided to add a BONUS to the proceedings which will NOT be available on Amazon orders since they can't deal with extraneous items.
I've become enamored with the idea of these Trading/Gum Cards, so inside each package (not inside the disk case itself – which has its own special Trading Card included) we will be tossing in a FREE hand-signed Bonus Trading Card, as pictured here. Just an extra, little "Thank You"!
Ebay Listing for Evil Spawn Blu-Ray
Ebay Listing for Dinosaur Island DVD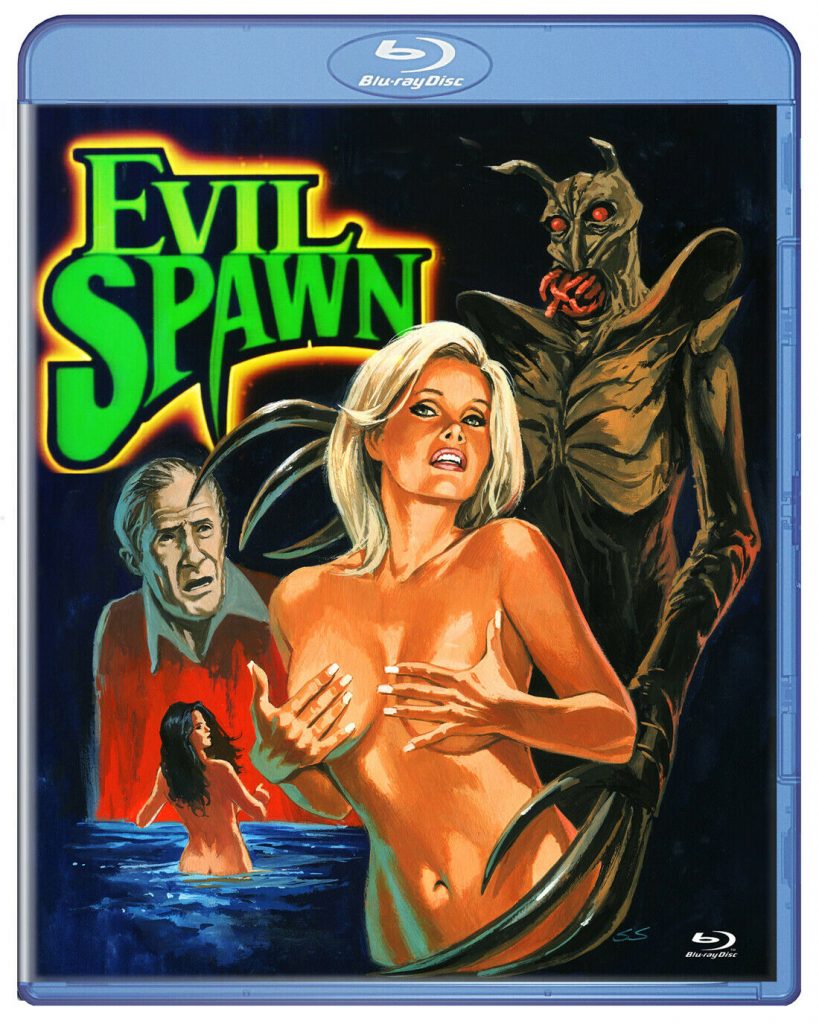 Produced during the heyday of Straight-To-Video mania, EVIL SPAWN (1987) takes on the "Kitchen Sink" approach to story-telling. A faded, once desirable, top-tier actress, Lynn Roman (BOBBIE BRESEE), desperate for a comeback movie role, allows herself to become the subject of an experimental drug developed by a mad scientist, played by Horror Movie Icon, JOHN CARRADINE. The end results are… deadly.
Amazingly enough, the formula works and Lynn Roman regains her youth… along with the unpleasant side effect of periodically turning into a large, bug-eyed monster!Produced by Cult filmmaker, FRED OLEN RAY (HOLLYWOOD CHAINSAW HOOKERS) from writer/director, KENNETH J. HALL (GHOST WRITER), the movie features everything you'd expect from a sleazy, B-Fest movie like this…
Extra Features include a FREE Collectible Trading Card, Special Commentary Track by Producer, Fred Olen Ray, 3 "Behind the Scenes" Video Featurettes, John Carradine's Out-Take Reel, The Original NITE OWL THEATER episode, Original Trailer and a complete BONUS 2nd Feature, THE ALIEN WITHIN (starring Richard Harrison and Gordon Mitchell). Mastered from a new Wide-Screen 2K scan of the original 16mm Camera negatives.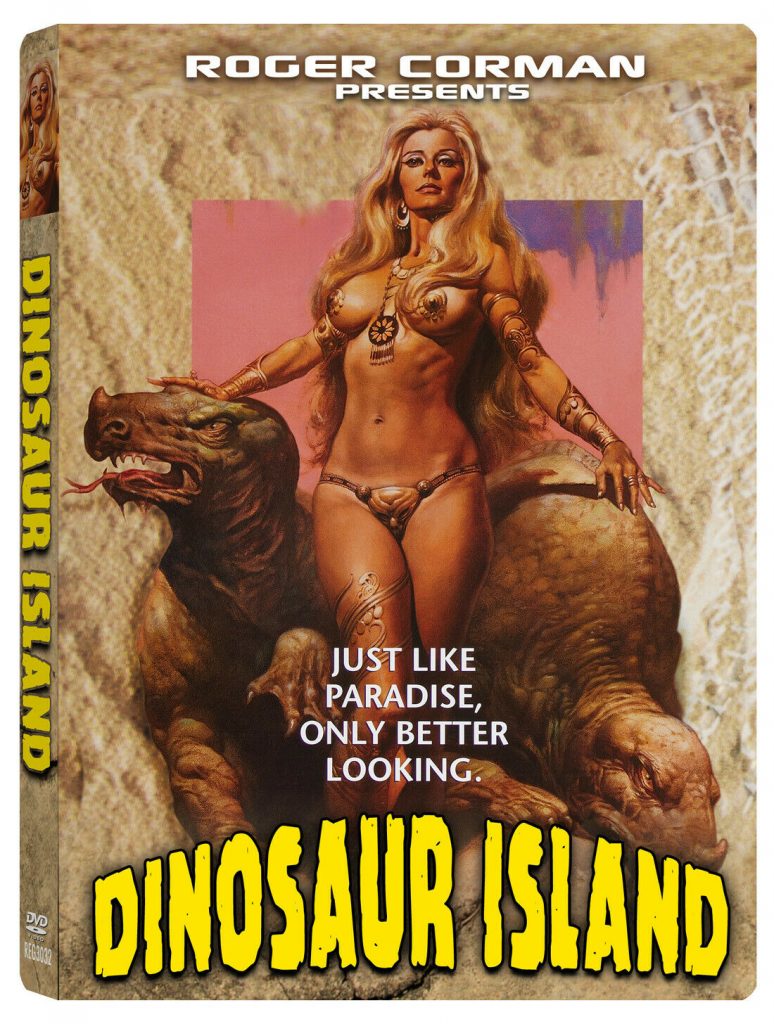 Ripped from the pages of Men's Magazines everywhere, here comes the exciting story of a plane-load of love-starved Soldiers, stranded on a lost island inhabited by gorgeous Cave Girls and man-eating Dinosaurs! The deft handiwork of cult movie Icons, Fred Olen Ray (HOLLYWOOD CHAINSAW HOOKERS) and Jim Wynorski (CHOPPING MALL), for the King of The B-Movies, Roger Corman, DINOSAUR ISLAND (1994) is the movie experience every kid wished he'd had back in the 1950s.
Starring Exploitation Movie Royalty, Michelle Bauer, Richard Gabai, Ross Hagen, Antonia Dorian, Griffin Drew, Toni Naples and Peter Spellos, DINOSAUR ISLAND delivers everything it promised and more. Stop-Motion Monsters, Cat-Fighting Beauty Queens, and the sizzling, Volcanic Hot Tub Crater of Love… it's all on display in breath-taking Color!
Restored here from the surviving tape elements after the loss of the original camera negatives, DINOSAUR ISLAND is available for the first time on an officially licensed DVD! Extras include "Deleted Stop-Motion Sequences", Original Trailer, and a FREE Collectible Trading Card in an Exclusive Edition, Commentary Track with with Wynorski, Ray and actor, Richard Gabai. Personally hand-signed by both directors, Jim Wynorski and Fred Olen Ray. 1000 Copies Only.