One of items features in Vinegar Syndrome's Black Friday offerings is a pre-order for a limited edition slipcase version of Emilio Vieyra's The Curious Dr. Humpp, finally making it's debut in HD. Street date: Jan 26, 2021.
Order Link: Curious Dr. Humpp Blu-Ray at Vinegar Syndrome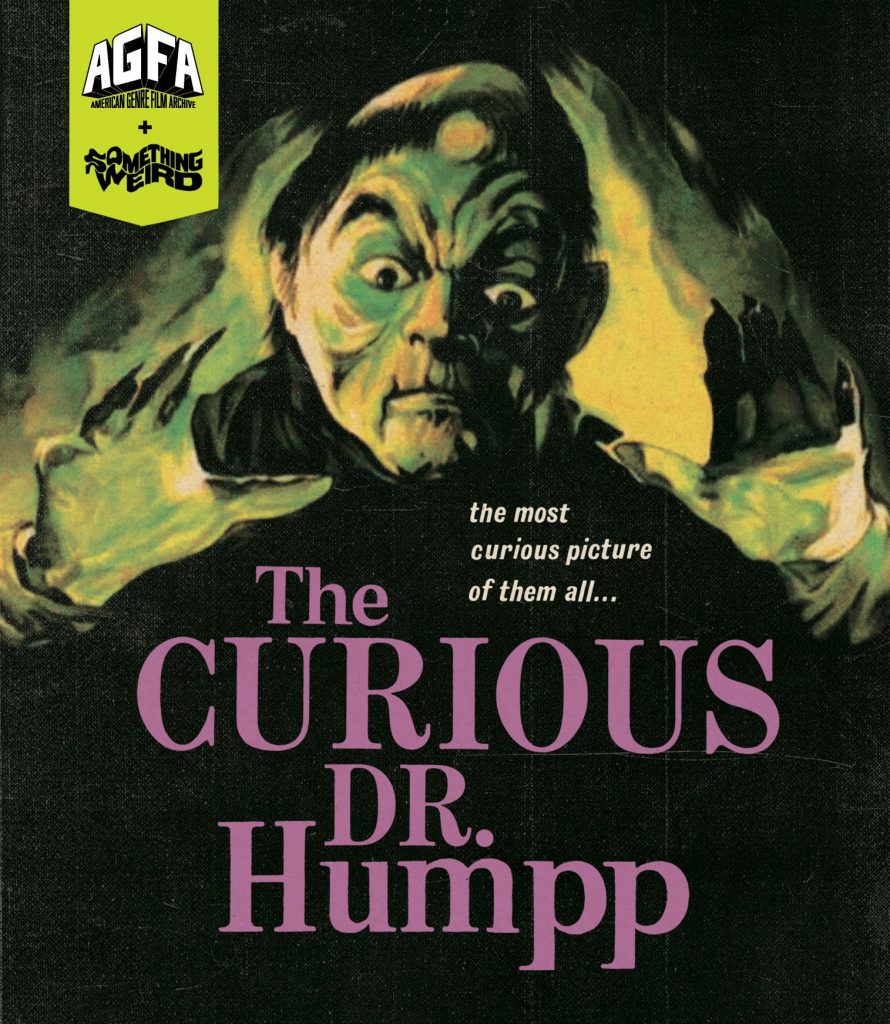 This special limited edition embossed slipcover is limited to 1,500 units and is only available here at VinegarSyndrome.com!
The American Genre Film Archive (AGFA) represents the world's largest theatrical catalog of exploitation cinema. Their home video line presents a diverse selection of movies, ranging from new preservations of classics from the vast library of Something Weird to the wildest in shot-on-video (SOV) titles. Vinegar Syndrome's sister company, OCN Distribution, is thrilled to be representing this diverse and unique home video line!
THE CURIOUS DR. HUMPP isn't a movie — it's a rite of passage. Easily one of the most brainbreaking sensory overloads in exploitation history, the story follows Dr. Humpp and his army of grotesque monsters as they kidnap couples and drain their "blood forces of sex" to keep the doctor eternally young. Directed by the prolific Emilio Vieyra in Argentina, this movie combines artful gothic horror with unhinged sex, comic book pulp, and a talking brain in a jar. Plus a monster who plays the guitar. Basically, this is what might have happened if Mario Bava collaborated with Doris Wishman after an acid binge. AGFA + Something Weird are thrilled to present a brand new restoration of this iconic sex-horror classic, complete with a new commentary track from filmmaker Frank Henenlotter (BASKET CASE). Plus LA VENGANZA DEL SEXO, Vieyra's original "horror" cut of THE CURIOUS DR. HUMPP in its original Spanish language — available for the first time ever on home video with English subtitles!
directed by: Emilio Vieyra
1969 / 87 min / 1.37:1 / English
• Region Free Blu-ray
• Newly scanned & restored in 2k from its 35mm internegative
• Commentary track with filmmaker Frank Henenlotter (BASKET CASE)
• Bonus Movie: LA VENGANZA DEL SEXO – 2K restoration of the original cut of THE CURIOUS DR. HUMPP from a 35mm fine grain lab print
• Brain damaged shorts and trailers from Dr. Humpp's laboratory
• Reversible cover artwork
• English SDH subtitles